In redesigning your lush landscape, draw inspiration from the rich culture of the Orient. From elegant stone steps to flowing streams of water, an Asian-style garden successfully captures a climate of peace, elegance, and restfulness, making it a sought-after design in contemporary homes.
If you want a piece of paradise every time you peek out your window, here are five ways on how you can turn your garden space into an Asian-themed oasis:
Oriental Plants
The selections of plants in an Oriental-themed garden is well-curated. Plants in an Asian-inspired backyard must be representative of the culture and tradition of the countries from the East.
One way to channel an authentic Asian vibe is to outline your garden with clumping bamboos. Bamboos are popular elements in Asian homes as it serves as a natural privacy screen. Aside from its functionality, these plants have a way of sprucing up a place. With its tall and slender form, bamboos are charming decorations to your residential property.
Azaleas are also important ornaments to your outdoor space. These lovely blooms have been around for centuries now. Azaleas were originally propagated by Buddhists for the purpose of worship. With its cultural significance, azaleas are widely celebrated in East Asian countries. These perennials make for an exquisite backdrop as they come in different colors — pink, red, white, and yellow.
Aside from blooms, foliage is just as vital in the process of Oriental landscaping. To cop that Asian look, try incorporating stunning greens to your lush garden. The hosta plant is the best natural element you can plant in your garden. It is famous in Japan, Korea, and China for its durability and variety. Hostas also have unique and eye-catching foliage, making it a stellar addition to your outdoor space.
Decorative Rocks
An Oriental-inspired garden makes use of decorative rocks in their landscape. Rocks are essential elements to Asian homes as they add that rugged charm to the entire aesthetic.
Textured boulders and elongated rocks are used as statement pieces. They are positioned vertically rather than horizontally to mimic Asian tradition to the garden.
Large rocks are often coupled with green foliage to create an interesting juxtaposition among the elements of nature. The placement should look unorganized to give it a more natural look.
You can also make a bed of rocks in your Asian garden. Choose a corner in your outdoor space and throw rocks, pebbles, and stones to create a textured carpet. That will make your garden look more homey and relaxing, especially when placed beside a water feature.
Water Feature
Oriental-inspired landscapes try to capture the peace of the outdoors. It capitalizes on elements of nature, specifically water, to create a serene and soothing environment to homeowners.
Building a miniature pond is one way to establish an air of restfulness in your garden. Aside from the sense of calmness it provides, this water feature also enriches the overall aesthetic of your residential space.
If you want a more convenient alternative, install a three-tier fountain in your outdoor space. This decorative piece perfectly captures the old world charm of Asian landscapes. At the same time, it complements the lush surroundings of your home.
Stone Steps
Stone steps are essential features to an Asian garden; these utilitarian elements can remarkably enhance the look of your garden. Stone steps give a luxurious yet traditional appeal to your outdoor space.
When installing your stone steps, make sure to create zigzag walkways. Asian homes style their gardens with meandering stone steps. That is because Asian countries are superstitious and believe curvy pathways prevent spirits from entering the house. But aside from this, crooked paths give more character to your place as opposed to straight walkways.
When choosing materials for your stone steps, opt for fieldstones. With its irregular shape and natural texture, fieldstones give that rustic charm to your picturesque garden. If you want a century-old look for your Asian space, go for reclaimed granite steps. With its rough and unpolished texture, reclaimed granite offers a more authentic ruggedness. This type of stone step works well in areas of your garden that are covered with sand or soil.
Architectural Accents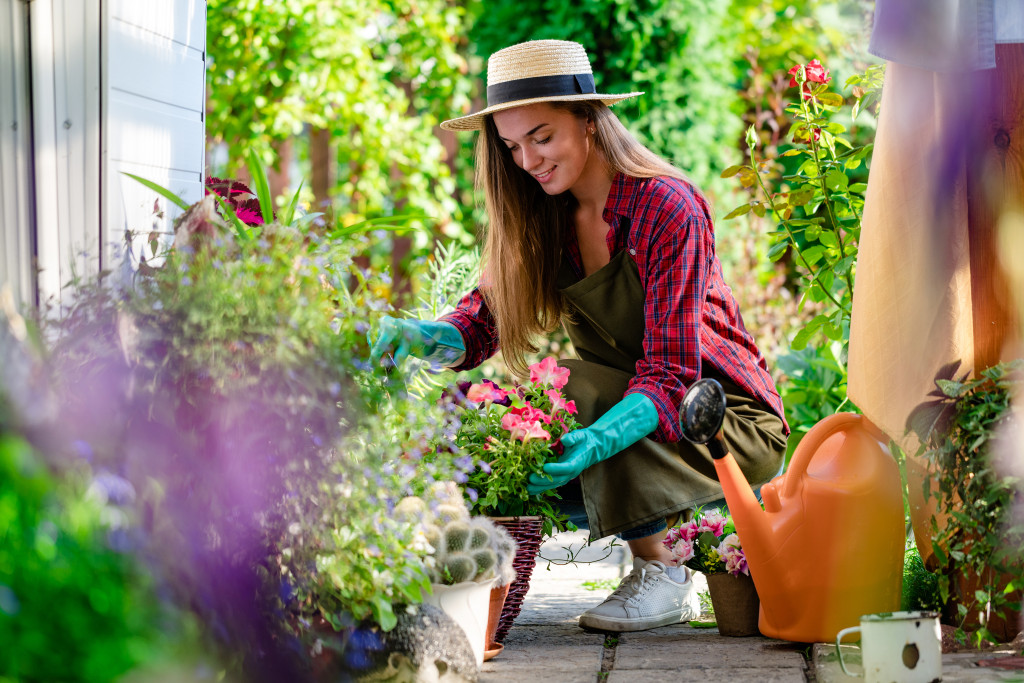 An Asian-style garden utilizes architectural elements to jazz up its landscape. You can install wooden arbors near your entry or exit points to create an enchanting aura to your garden. You can decorate the structure with vines, flowers, and lights to create a more dreamy appearance.
Putting up bamboo fences can also channel the century-old look of Oriental villages. Aside from its old-world beauty, the rich color of bamboo fences complements the lush hues of your fresh vegetation.
Asian countries are masters in creating elegant, timeless, and meditative landscapes. If you want to turn your backyard into a relaxing sanctuary, then incorporate the elements of the East to your residential spaces.