Homeowners with mortgages are very fortunate these days because the steep prices of homes in the market have made them equity rich. Any homeowner can borrow up to 80 percent from equity. This is referred to as tappable equity. According to Black Knight Inc.'s Mortgage Monitor Report released in September, the tappable equity of homeowners in the second quarter of 2021 increased by almost 40 percent from the same time in 2020.
The total tappable equity of homeowners with mortgages reached $9.1 trillion, with an average of $173,000 for every homeowner. More than 1.1 million homeowners availed cash-out refinances amounting to more than $63 billion in the second quarter of 2021 alone. This was the highest number of quarterly cash-out refinances in almost 15 years.
Many homeowners use equity loans to renovate their homes. This has the double benefit of adding further value to the property while also enabling them to get more enjoyment out of it. If you are a homeowner, find out how much your tappable equity is. You can then plan your home improvement based on this.
Outdoor Expansion
American homeowners love outdoor living. A 2021 survey by the International Casual Furnishings Association (ICFA) showed that among homeowners with patios, 74 percent use it for relaxing, and more than 51 percent use it as a place for family and friends to gather and socialize. Most or 88 percent of homeowners are not satisfied with their outdoor spaces, though, and want to improve on them. About 66 percent want to improve style, 56 percent want improved function, and 45 percent want to improve comfort.
According to a survey by Fixr.com, 85 percent of the best industry experts in home construction state that homeowners are investing in outdoor living projects this year. About 48 percent added that these are equipped for use through all seasons of the year. The top reasons coincide with those found in the ICFA survey.
The Outdoor Kitchen
According to the survey by ICFA, 51 percent of homeowners do outdoor cooking. These days, people want more than just an ordinary outdoor grill and are investing in full outdoor kitchens. This means having a roofed area with a sink, stove, oven, a sleek Lynx grill with sophisticated parts, and a refrigerator. There must be ample counter space for food preparation. A portable heater will make the kitchen functional even in cold weather.
The Outdoor Living and Dining Room
The outdoor kitchen needs to be accompanied by outdoor living rooms and dining rooms. You can add an adjoining gazebo. A patio is unroofed; therefore, a gazebo is more weather-friendly. You can make it large enough to accommodate outdoor living room and dining room furniture or just a dining area. Some people add a fireplace to make it cozy even in winter.
If you merely want to relax in the open-air day or night, add a roofed porch at the front or side of the house or a roofed veranda going around two to three sides of the house. You can also add outdoor spaces on the upper floors of the house by adding roofed balconies. Having a balcony for each bedroom gives every resident a private outdoor space for quiet time. Furnish these with comfortable lounging chairs made for the outdoors. Spruce them up with potted plants.
Greenery and Landscaping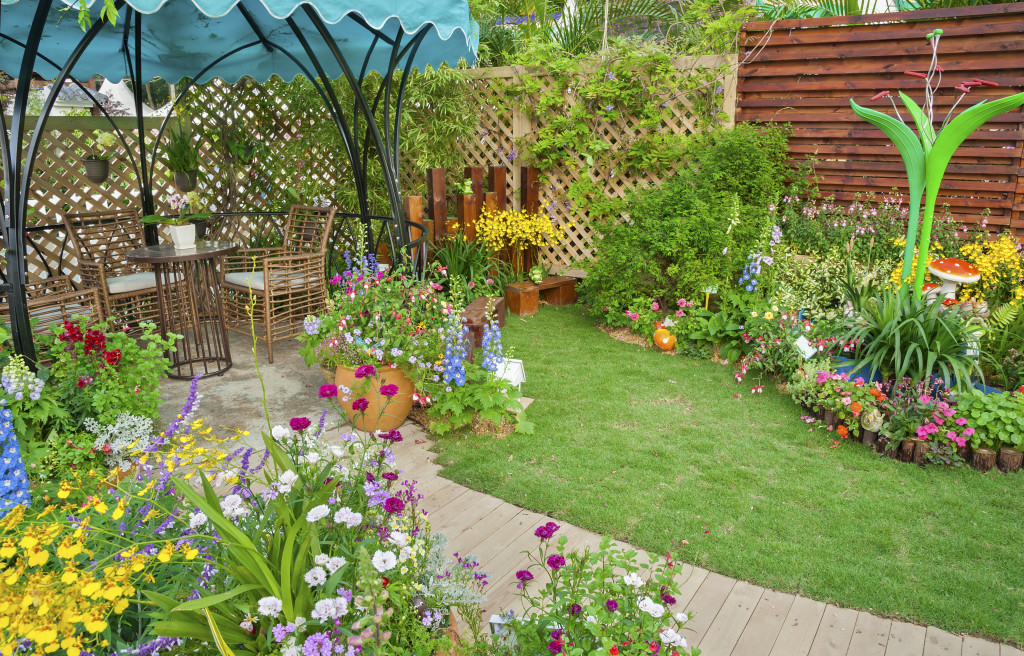 Outdoor additions to the home must be complemented by well-tended greenery. Being outdoors in nature is soothing and rejuvenating at the same time. A lawn will suffice, but adding flowering plants will add more color and beauty. Plant trees strategically to add shade. Some types of trees planted beside fences can also add privacy.
Pools are Still Popular
To really maximize the fun from your property, add a pool. Make sure that the design is complementary to the house and all outdoor additions. This will make your home look and feel like a private resort. Some people who are avoiding too much sun exposure add a shade over the pool. For the pool to be useful even in cold weather, you can add a heating function. Avoid tracking water into the house by adding a bathroom and changing room near the pool.
Blending the Indoors with the Outdoors
Many homeowners merge indoor and outdoor spaces with sliding or folding doors and large picture windows. These can be made of tempered glass that also provides insulation against very hot or very cold weather. If you worry about security, add grills in a beautiful design. When the weather is fine, these doors and windows can be left open. When you need to close them, the indoor space still feels expanded because you can see out. You can still enjoy looking at your outdoor home additions even while inside.