House prices are soaring through the roof because there are few houses available on the market and many buyers competing for these. Even the new construction of houses intended for sale cannot keep up with the high demand.
Data from the National Association of Realtors (NAR) show that there were 1.03 million houses available for sale nationwide by the end of February 2020. This was a record low and a 30 percent decrease from February 2020.
Redfin, the real estate website, noted that the median selling price of a single-family home across the country rose by almost 15 percent from October to December 2020, reaching $315,900 which is over four times the national median family income of $77,774. For the first time in U.S. history, the average American house is selling up to as much as 107 percent of its listed price, and buyers are the ones vying to pay more to seal the deal.
Instead of joining this buying rush, there may be another way for you to have your new home at a cost that you can control. Consider buying a lot and constructing a house, instead.
Location and Lot
You can choose where you want to buy your property, specifically an area with a cost of living that is affordable for your income. Of course, it must also be accessible to your source of livelihood. If you are working remotely, this will not be a problem. You must ensure, though, that the area has strong and reliable Wi-Fi service.
In choosing a lot, do not necessarily go for the cheapest one on the market. If it will need grading and leveling or even rock blasting, you may end up spending even more than the cost of other lots. You must also choose a lot that already has easy access to water, electrical, and gas connections, otherwise, you will again spend too much to make special connections.
After establishing these two important factors, you can choose cheaper lots by looking for ones that are either smaller than usual or in an odd shape, such as ones that are too narrow. Most people do not want these, so they come at a lower price.
The Right Contractor
Look for an experienced certified general contractor you can afford but make sure they come with impeccable references. It makes no sense to pay less and end up with a shoddy job.
Collect several bids and talk to each one before deciding. You will want someone you can communicate well with and who can give you cost-saving suggestions.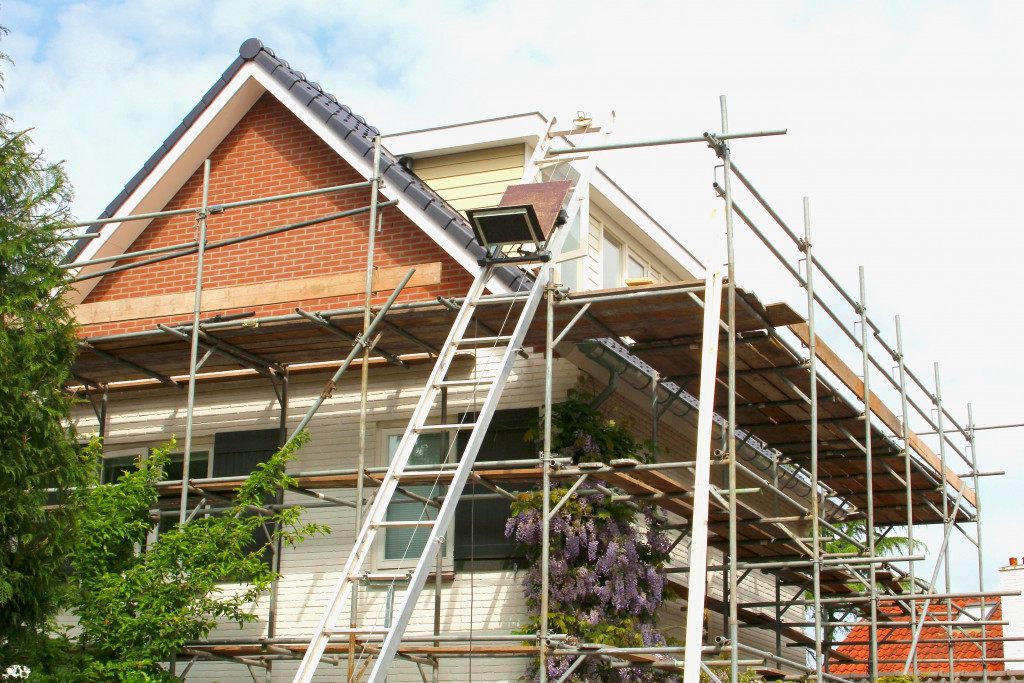 Size, Design, and Dimensions
Build the smallest house that can fit your requirements to keep your costs to the minimum. Contractors also advise that building upwards costs less while still giving you the space you need. This is exactly right for a small or odd-shaped lot, as well.
Keep your design as simple as you can, and a box-type house is the simplest. Choose an open floor plan for the living room, dining room, and kitchen to make the most efficient use of space and save on interior walls and doors.
Because your lot is small, put in a flat concrete roof that you can use as a deck or patio surrounded by potted plants. This will give you a place to relax in the fresh air and nature, in the sunshine or moonlight. It can even be your remote office when the weather is good.
Choice of Materials
Talk to your contractor about sourcing used or reclaimed materials whenever possible. You can scour various sites online and even demolition sites for flooring, cabinets, doors, handles, light fixtures, kitchen countertops, and many more.
If you do not find affordable flooring, go for polished cement. It is sturdy and will last a lifetime while being elegant at the same time. Consider using precast concrete for your walls, as well. These are cheaper and are quickly installed.
Splurge on windows with an insulating coating that will help keep the house warm in the winter and cool in the summer to lower your energy bill. Also, choose a coating that filters UV light to protect you as well as prevent your furniture from fading.
You must not scrimp on proper insulation, either. Consult your contractor on what is best, will last, and will not be a nest for pests.
Polymer siding made through custom plastic molding is better than the popular vinyl siding that can be toxic and show seams. Polymer siding is safe and durable for decades with no need for repainting and frequent cleaning. It is also customizable and can look exactly like wood or stone with no visible seams. It can make up for your house's simple box design and complement the windows to give an impressive look all around.
Build Your Home
Go on and do the math between buying a house this year and constructing one instead. You will find a huge difference in the cost especially if you know where to save and where to splurge.
Apart from being more affordable, the house you build is exactly as you want it, based on your specific needs. You can make it as basic as you can afford for now and then add other features when you can afford it. This house will truly be yours and can grow with you.