There is no denying that the way we view and use our homes has changed drastically over the past year. We now work from home, spend more time indoors, and entertain guests virtually. As a result, many of us are looking for ways to make our homes more comfortable, fashionable, and functional. According to experts, many homeowners are turning to modern home trends that can add interest and appeal to their interior decor.
If you're interested in adding a touch of modernity to your home decor, here are five trends you can try out.
1. Minimalism
Minimalism is one of the most popular design movements of the past decade. It's about paring down to only the essentials. A minimalist home is uncluttered, with clean lines and a neutral palette. If you're interested in trying out this trend, start by decluttering your space and removing any unnecessary furniture or decoration. Then, focus on creating a cohesive look by choosing furniture and accessories in similar colors and styles.
Some people also abandon conventional storage solutions in favor of more creative methods, like using wall-mounted shelves or hanging baskets. The main goal of minimalism is to create a serene and calming environment, so don't be afraid to experiment until you find what works best for you. Look for ways to let in natural light and create an airy feel in your home.
2. Biophilia
With its focus on nature-inspired elements, biophilic design is the perfect way to bring the outdoors inside your home. To incorporate this trend into your space, add houseplants, use natural materials like wood and stone, and incorporate earthy colors into your color scheme. You can also bring in natural light by installing skylights or large windows.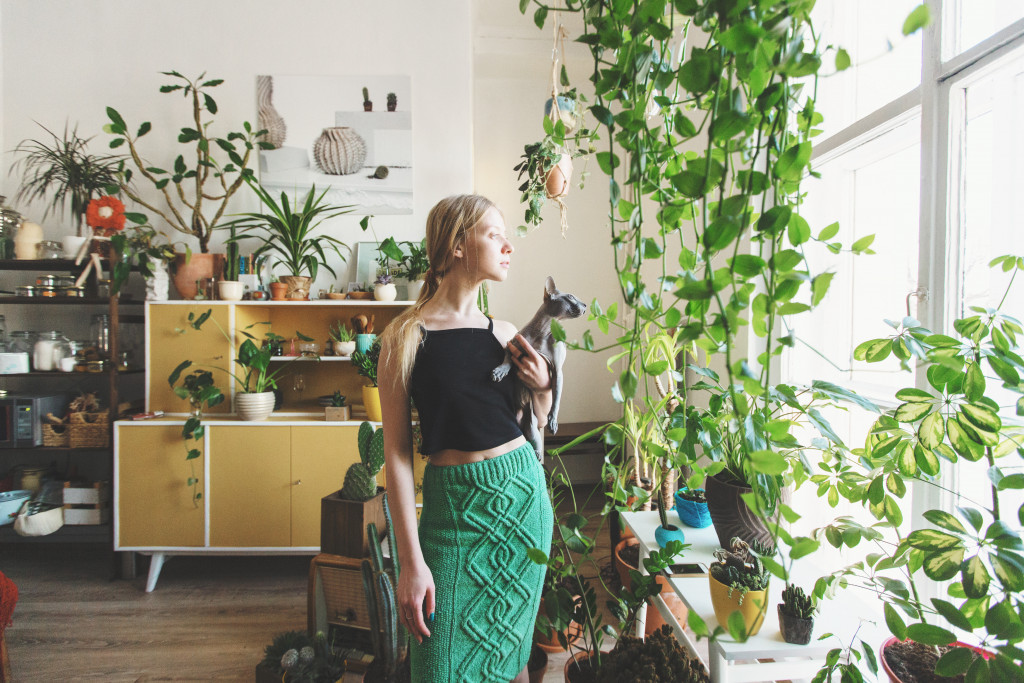 Many biophilic home designs also mimic the terrarium design, where all the furniture is placed on the perimeter of the room, leaving a green oasis in the center. Glass is a popular material choice for terrariums because it allows light to reach all the plants and creates a feeling of being surrounded by nature. Unconventional glass doors use center-hung pivot hinges that make it easy to open and close the door without disturbing the plants inside.
3. Hygge
Derived from a Danish word meaning "coziness," hygge is about creating a warm and inviting space. To achieve this cozy aesthetic in your home, try adding comfortable furnishings like blankets and throws, lighting scented candles, and adding personal touches like family photos and mementos. You can also create a hygge-inspired home office by adding a cozy chair and desk and making sure there is plenty of natural light.
But it's not just about the physical space; hygge is also about creating an atmosphere that makes you feel relaxed and happy. So take some time to slow down and enjoy the simple things in life. Make time for leisurely activities like reading, spending time with family and friends, and exploring your hobbies.
4. Retro
With its bold colors and patterns, retro style is making a comeback in a big way. To achieve this look in your home, start by selecting a few key pieces in vibrant colors or eye-catching patterns. Then, accessorize with vintage-inspired items like mid-century modern furniture or vintage artwork. Some retro-style homes also incorporate unique elements like exposed brick or reclaimed wood.
The retro design may not be for everyone, but it can be a fun way to add some personality to your space. If you're not ready to commit to a full-on retro makeover, start small by adding a few key pieces or incorporating one or two retro elements into your existing decor. A good place to start is with a retro-inspired color palette.
5. Art Deco
A nod to the glamorous Hollywood of the 1920s, art deco design is all about luxury and opulence. Try adding statement pieces like mirrored furniture or gilded frames to incorporate this trend into your space. You can also add rich textures with velvet upholstery or fur throws. And don't forget to add sparkle with sparkling chandeliers or shimmering accents. This gaudy style is not for everyone, but it's a great way to add some glamour to your home.
But this can be an expensive style to achieve, so if you're on a budget, look for ways to incorporate art deco elements into your existing decor. For example, you can add a beaded fringe to a plain lampshade or use metallic paint to give an old piece of furniture a new lease on life. You can also find affordable art deco-inspired home accessories like vases and wall art.
Whether you're looking to add interest to your space or want to try something new, these modern home trends are sure to do the trick. You can incorporate one or two of these trends into your existing decor or go all out and give your home a complete makeover. They will surely add personality and style to your space, whichever route you choose.