Landscaping improves curb appeal and tenant retention, attracting renters who value the outdoors.
Outdoor lighting creates a vibrant and inviting atmosphere, increases security, and adds monetary value.
Upgrading doors, windows, and building entrances enhances curb appeal, safety, and profitability for the property.
Adding signs that welcome potential tenants adds personality and charm to the building, creating a positive first impression.
Having an attractive apartment building is key to attracting and retaining renters. Not only will you be able to charge more for your rental units, but it also helps create a sense of pride among those living in the building. An aesthetically pleasing apartment complex can help create a positive atmosphere and make tenants feel at home.
Fortunately, there are several easy ways to improve the aesthetic appeal of your property without breaking the bank. This article will discuss tips on making your apartment building more attractive for potential tenants.
Invest in commercial glass installation services.
Investing in commercial glass installation services can greatly enhance the aesthetic appeal of an apartment building. Glass fixtures like windows, doors, and barriers offer a contemporary and sleek look that appeals to modern renters. For those who seek to attract tenants with an eye for design, it is essential to invest in glass installation services provided by experts.
Professional installation can ensure the glass is installed properly and securely, providing safe and long-lasting fixtures that add value to the property. A well-executed glass installation can also bring natural light into living spaces, creating a warm and inviting atmosphere for potential renters. By investing in glass installation services, landlords can increase the attractiveness of their rental properties and attract tenants with high standards of comfort and aesthetics.
Improve its facade.
Improving your apartment building's facade is a great way to make it more attractive. Here are a few great ideas:
Invest in landscaping.
Investing in landscaping is one of the most effective ways to increase the aesthetic appeal of an apartment building. When done right, it can create a breathtaking entrance that welcomes tenants and visitors alike. This has numerous benefits, including improved curb appeal, better tenant retention rates, and potentially higher rental rates.
To ensure success, partnering with a landscape architect who understands the unique needs of multi-unit residential developments, choosing low-maintenance plants, and working with the budget is important. Properly investing in landscaping can help a property stand out in a crowded market and attract discerning renters who appreciate the value of a beautiful outdoor space.
Utilize outdoor lighting to create an inviting atmosphere.
Proper utilization of outdoor lighting is crucial when it comes to creating an inviting and aesthetic atmosphere for your apartment building. Lighting is an essential feature that can transform the look and feel of your property at night. Well-designed outdoor lighting can offer numerous benefits not only to the renters but also to the property owner. It can enhance the visual appeal of your building and drive more traffic to your property.
It amplifies the beauty of the exterior design, increases security, and can even add monetary value to the property. Therefore, it is essential to carefully consider selecting the right lighting system for your apartment building, keeping the atmosphere and aesthetic appeal in mind. A well-lit building creates a vibrant and inviting feeling that can set your property apart from the competition.
Paint or replace old doors and windows with new ones.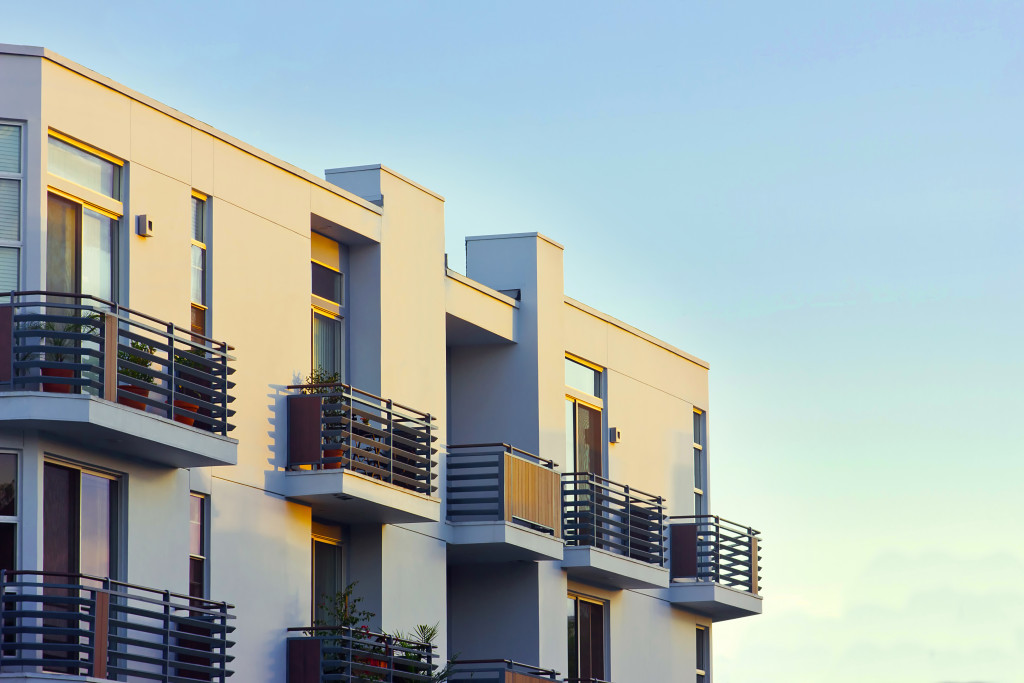 Painting or replacing old doors and windows can significantly impact the overall appearance of an apartment building. The doors and windows act as the eyes and mouth of a building and provide a crucial first impression to potential renters. Maintaining an attractive exterior cannot be overstated, as it can determine the level of interest and your property's success.
Properly painting or replacing these components can enhance the visual appeal and improve energy efficiency and security. As an expert in the field, hiring a professional who can ensure a skilled and efficient job is recommended. Your apartment building can attract and retain renters with a fresh and modernized appearance for years.
Upgrade your building's entrance.
Upgrading the building's entrance is one of the most effective ways to improve an apartment building's aesthetic value for renters. The entrance is the first point of contact for renters and their guests, making it a crucial aspect of the image that the building projects. A properly upgraded entrance can tell renters that the building is well-maintained, safe, and welcoming.
It can also increase a building's appeal to renters, increasing occupancy rates and profitability. Elements that can be upgraded to improve the entrance include lighting, paint, landscaping, signage, and security measures. Hiring a professional to handle such upgrades may be the best option, as they will have the necessary knowledge and expertise to do the job correctly.
Add signs that welcome potential tenants.
Ensuring that your apartment building looks welcoming and inviting is paramount when attracting new tenants. One way to add to the overall aesthetic value of your building is by incorporating signs that welcome potential renters. These signs can come in various shapes, sizes, and designs, depending on the style and theme of your building.
Whether a simple wooden welcome sign or a more elaborate metal display, these signs can create a positive first impression for those viewing your property. In addition to adding a touch of personality and charm, these signs are a constant and noticeable reminder of the warm and inviting atmosphere you wish to maintain in your building.
These are just a few ways you can improve the aesthetic appeal of your apartment building. No matter the size, investing in enhancing your property's exterior will benefit you down the road.