It's no secret that spending time outside is beneficial to your health. Not only does it provide an opportunity for exercise, but it has also been proven to improve mood, mental clarity, and even stress levels. But what if your home doesn't have much outdoor space? Or what if the outdoor space you do have is far from ideal? Don't worry — there are plenty of ways to improve your home's outdoor space, no matter what kind of climate you live in or how much money you have to spend.
Here are six ways to improve your home's outdoor space:
1. Get Rid of Any Clutter
Oftentimes, patios and decks become cluttered with lawn chairs, grilling equipment, and other items that take up valuable real estate. Getting rid of any clutter is important if you are looking to maximize the space in your outdoor area. This means putting away anything that isn't being used regularly and ensuring that everything has a designated place.
For example, yard tools can be stored in a shed or garage, while patio furniture can be arranged in a way that doesn't block foot traffic. By decluttering your outdoor space, you can make it more functional and enjoyable.
2. Bring in Some Greenery
Plants and flowers can brighten up any outdoor space, no matter how small. Consider adding potted plants or hanging baskets if you have a patio or deck. You could add a garden bed or border for larger areas, such as a backyard. Not only will this make your outdoor space more attractive, but it can also provide some much-needed privacy.
Many low-maintenance options are available if you are not keen on spending a lot of time caring for your plants. Alternatively, you could create a rock garden or xeriscape — a type of landscaping that uses drought-tolerant plants.
3. Add Some Shade
If your outdoor space lacks shade, it can be uncomfortable to spend time there during the hotter months. Adding an awning, pergola, or gazebo can provide much-needed relief from the sun — and it can also be a great way to add some style to your space.
Shade structures come in all shapes and sizes, so you are sure to find one that fits your budget and needs. You can even DIY your own shade structure using PVC plastic sheets. Contact a reliable PVC sheet supplier to get an estimate for the materials you will need. You could also look for outdoor umbrellas or canopy tents to provide temporary shade.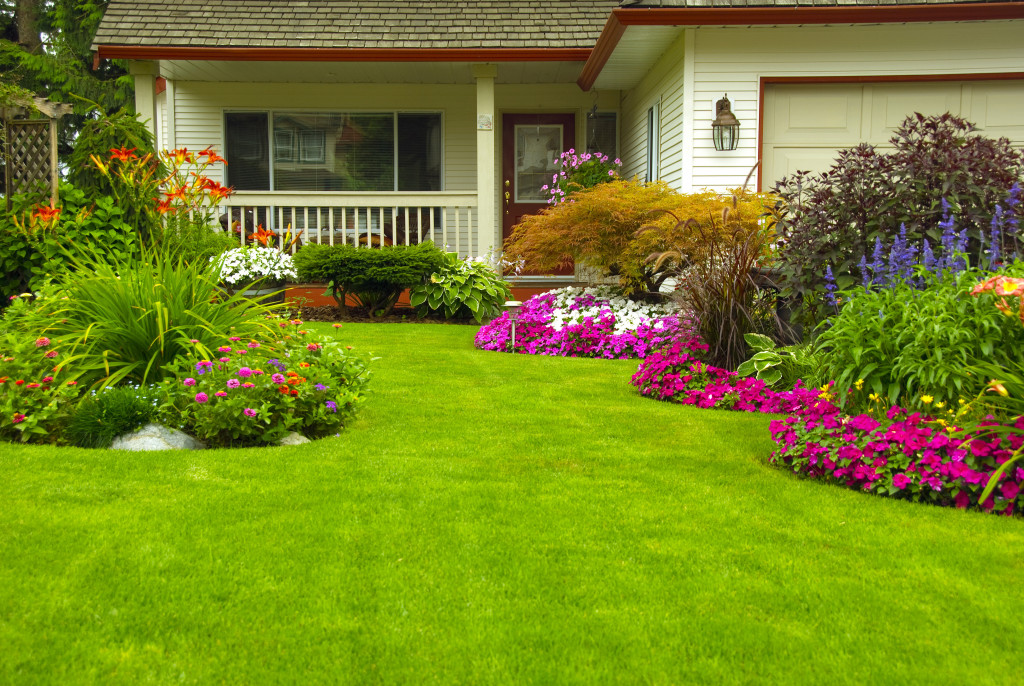 4. Add Some Lighting
Lighting is important for any outdoor space, as it can make it more inviting and enjoyable to spend time there — even after the sun goes down. Many types of outdoor lighting are available, so you'll need to choose the right option for your space.
For example, solar-powered lights are great for adding lighting without running any cords or increasing your energy bill. LED string lights are also popular for decks and patios, as they can create a warm and inviting ambiance. If you have steps leading up to your outdoor space, consider adding some step lights to make them more visible at night.
5. Create a Focal Point
A focal point is an important element of any outdoor space, as it helps to create a sense of purpose and can make the area feel more put-together. A water feature, such as a fountain or small pond, makes a great focal point for any outdoor space. A fire pit or outdoor fireplace is another popular option.
If you're short on space, a potted plant or piece of art can also serve as a focal point. The important thing is to choose something you love that will add interest to your outdoor space.
6. Add Some Comfortable Furniture
Lastly, don't forget to add some comfortable furniture to your outdoor space. Whether you want a place to relax and read or entertain guests, having the right furniture can make all the difference. Look for pieces that are weather-resistant and stylish to create an inviting outdoor oasis.
You don't need to spend a lot of money to find stylish and functional furniture. For example, you could look for second-hand pieces or shop at discount stores. With a little effort, you can create an outdoor space that you're proud of — without breaking the bank.
By following these simple tips, you can transform your outdoor space into a stylish and inviting oasis. With a little effort, you can create a space that you and your family will enjoy for years to come.