An outdoor kitchen is a great way to enjoy the summer sun and good company. Whether you're cooking for a crowd or just enjoying a quiet meal with family, an outdoor kitchen can make your backyard envy the neighborhood. But what are the best ways to improve your outdoor kitchen? This blog post will share the top six ways to take your outdoor kitchen from good to great!
1. Invest in Good Quality Appliances
This is one area where you don't want to skimp on quality. Cheap appliances are more likely to break down and need repairs, so it's worth investing in higher-end appliances that will last for years. Not to mention, good quality appliances will make your food taste better!
You should also check for any repairs or replacements that may be needed before firing up the grill this season. For example, if you have a Viking BBQ with broken parts, it will not only be a pain to use, but it could also be dangerous. So order Viking BBQ parts to keep your grill in top shape. You'll be glad you did when your friends and family are raving about your delicious food!
2. Make Sure You Have Enough Counter Space
One of the biggest mistakes people make when designing their outdoor kitchens is not having enough counter space. While cooking outdoors, you'll need plenty of room to prep your food. Make sure you have ample counter space on all sides of your grill so you can easily move around while you cook.
You may also want to consider adding a counter-height dining table to your outdoor kitchen. This will give you extra prep space when you need it and provide a place for people to sit and enjoy their food once it's ready. A bar or kitchen island is also a great addition to an outdoor kitchen if you have the space.
3. Don't Forget About Storage
Increasing storage space is one of the best ways to improve your outdoor kitchen. After all, you'll need somewhere to keep all of your food and supplies while you're cooking. You may want to consider adding cabinets, shelves, or even a pantry to your outdoor kitchen. This will help keep everything organized and within reach when needed.
If you're short on space, try using hanging baskets or pot racks to store frequently used items. This will free up valuable counter and cabinet space while still keeping everything within easy reach. No matter how you choose to increase storage in your outdoor kitchen, be sure to keep food safety in mind. Proper food storage is essential for protecting your family and friends from foodborne illness.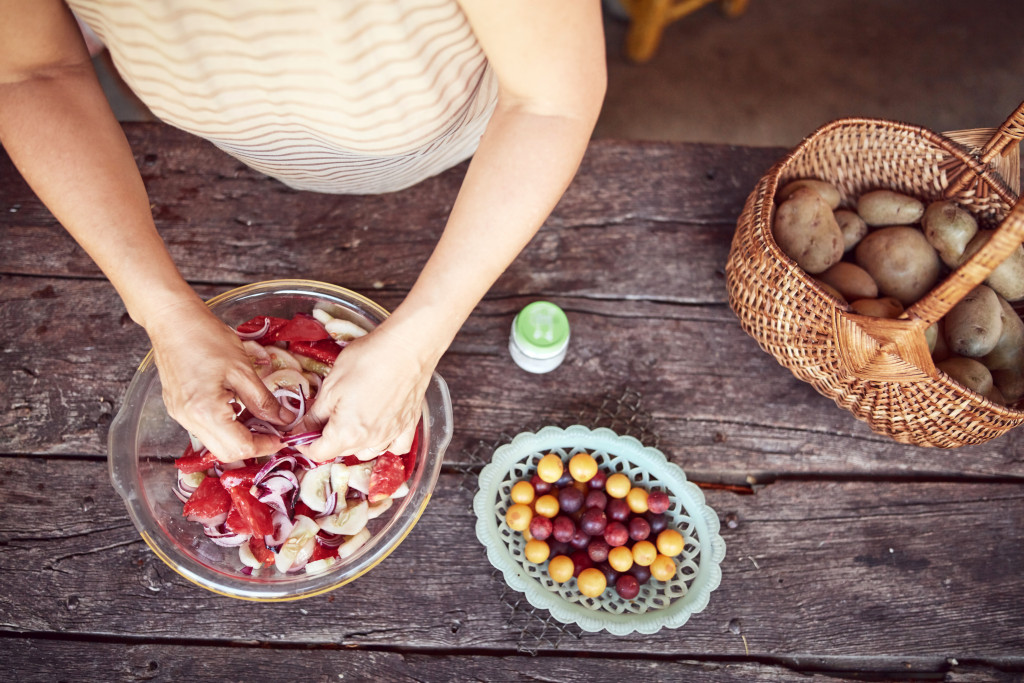 4. Add Some Green Space
No outdoor kitchen is complete without some green space. Plants and flowers can brighten up any backyard and provide a pop of color. They can also help to create a more inviting atmosphere for your guests. If you're short on space, consider planting herbs in pots that can be placed around your outdoor kitchen. This will add both beauty and function to your backyard retreat.
You can also use landscaping to create more privacy around your outdoor kitchen. If you live in a busy neighborhood, consider planting trees or shrubs to create a natural barrier between your yard and the rest of the world. This will give you much-needed peace and quiet while cooking outdoors.
5. Incorporate Outdoor Lighting
Good lighting is important in any kitchen, but it's especially important in an outdoor kitchen with less natural light available. Make sure you have plenty of overhead lighting and task lighting near your grill and prep areas so you can see what you're doing when cooking outdoors.
You may also want to consider adding string lights or lanterns around your outdoor kitchen. This will create a warm and inviting atmosphere for your guests. And, when the sun goes down, you can still enjoy cooking and entertaining in your backyard retreat.
There are plenty of things that you can do to improve your outdoor kitchen — but these six tips are a great place to start! Investing in good quality appliances, ensuring you have enough counter space, and adding extra storage are all great ways to make your outdoor kitchen more functional and enjoyable. Don't forget to add some green space and outdoor lighting to create a backyard retreat that you and your guests will love. You can transform your outdoor kitchen into the ultimate summer hangout spot with a little effort. So what are you waiting for? Get started!