It's easy to get caught up in the hustle and bustle of everyday life and forget to take a break. But spending even a few minutes outdoors can have some surprising benefits. Studies have shown that being in nature can help reduce your stress, improve your moods, and boost your overall health. And you don't have to go on a long hike or camping trip to reap these rewards. You just have to step out into your back or front yard.
But what if your yard's not exactly in the best condition? In that case, you could sweep up some leaves to paint a prettier picture for your eyes, or better yet, build one of these four recreational spaces that make your home's outdoor space feel like paradise.
Have a garden
Creating a garden at home is a great way to add color and life to your yard. Not only will it give you a chance to showcase your green thumb, but it can also provide you with a calming oasis amid a busy life. Here are a few tips to get you started:
First, choose a spot that gets plenty of sunlight. This will ensure that your plants have the energy they need to grow strong and healthy.
Next, decide what plants you want to include in your garden. Consider both annuals and perennials, as well as bulbs and seeds. Think about what colors you want to use and how tall or short you want your plants to be.
Once you have your plan in place, it's time to start planting! Be sure to dig holes that are twice as wide as the roots of your plants. And don't forget to water them regularly – newly planted gardens need lots of TLC!
With a little planning and care, you can create a beautiful garden that will add value and enjoyment to your home.
Build a tree house
Building a tree house is a great way to add extra fun and adventure to your backyard. Plus, it's a project that the whole family can enjoy together. Here are some tips to help you get started.
First, choose a good location for your tree house. You'll want to pick a spot that's big enough for the structure you have in mind and that has plenty of strong branches to support it. Once you've found the perfect tree, it's time to start construction.
If you're not an experienced builder, it's best to keep things simple. A basic platform with some walls and a roof should be enough to get started. However, if you're feeling ambitious, you can always add more features like a trapdoor or a slide.
Finally, don't forget the most important part of any tree house: the ladder. Be sure to build a sturdy one that will be safe for kids (and adults) to use. With these tips in mind, you're well on your way to building the tree house of your dreams.
Have a pool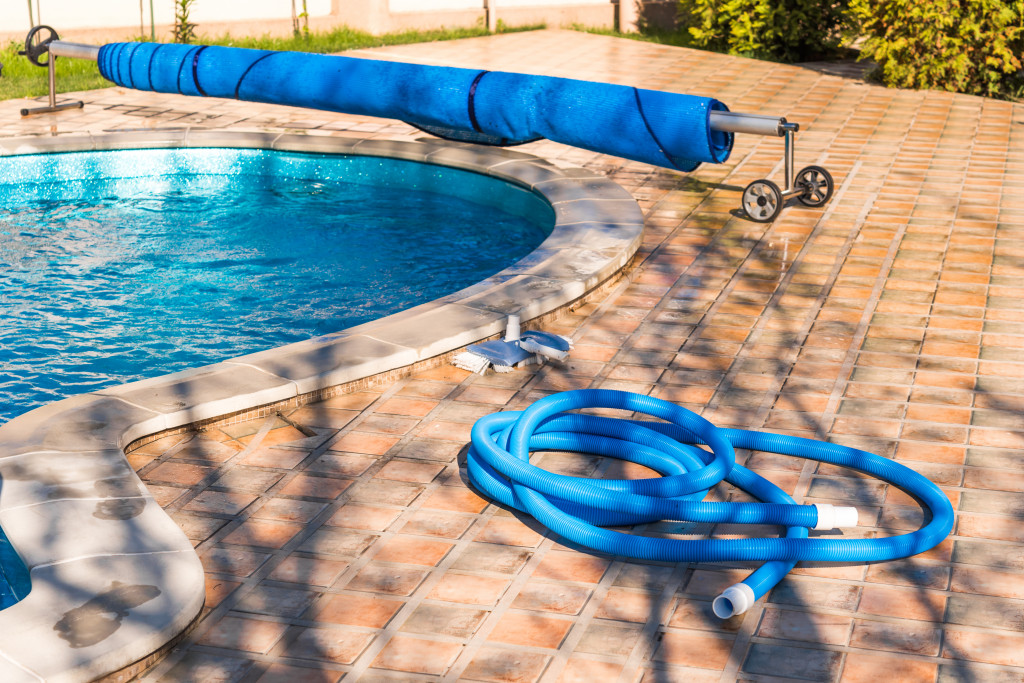 Building a pool at home is a great way to improve your property value while enjoying a luxurious amenity. However, you should keep a few things in mind before taking the plunge.
First, check your local building codes to ensure that pools are permitted in your area. Next, consider the size and shape of your lot when deciding on the type of pool you'd like to build. In-ground pools require a larger footprint than above-ground pools, for example. Finally, be sure to factor in the installation cost, which can vary depending on the type of pool you choose and the project's complexity.
With a bit of planning, you can enjoy a beautiful and functional pool that will add value to your home for years to come.
Build a patio
A patio can be a great addition to any home, providing a space for outdoor entertaining and relaxation. But before you start building, there are a few things to remember.
First, decide where you want the patio to be located. It should be in a spot that gets plenty of sunlight and is accessible from the house. Then, create a sketch of the patio, including any features you want to include, such as a built-in grill or fire pit.
Once you have your plan, you can start gathering materials. For the foundation, you will need gravel and cement. However, just as important is the roof of the patio. For this, you'll need an insulated roof that keeps your patio cooler in the summer and warmer in the winter, so you can use it all year round. It also helps to reduce noise from rain and hail. And, if you live in an area with a lot of snow, it can help to prevent the build-up of ice and snow on your patio furniture. This can be a little tricky to install yourself, so you'll need to hire a service specializing in insulated roofing systems. They will be able to help you choose suitable materials and get the job done quickly and efficiently. They will also be able to estimate the costs involved and how long the project will take.
With a little planning and effort, you can easily build a beautiful patio that will enhance your home and provide years of enjoyment.
Outdoor living spaces are a great way to make your home feel like paradise. Whether you have a garden, tree house, pool, or patio, these spaces can provide hours of enjoyment for you and your family. By adding some simple touches, such as comfortable seating or beautiful landscaping, you can create an outdoor oasis that is perfect for relaxation and recreation. So get outside and enjoy the fresh air.